... best known for his criticism of the corporate university, distance education and his book, Digital Diploma Mills. Another outspoken Canadian educator (Athatbasca), Stephen Downs, proponent of online education and education technology innovator, writes fondly and appreciatively of Dr Noble. Link to
Globe and Mail
obit + comments included.
---
David Noble's name has appeared in my blog pages on numerous occasions over the years, as though we varied in opinion on the benefits of technology in education, we nonetheless shared a scepticism around the corporatization of academia. I never met him, and never corresponded with him, but was influenced by him, and always tried, no matter how enthusiastic my espousal of this or that technology, to take his cautions and criticisms in mind. His willingness to think freely and speak his mind represents the best in Canadian academic tradition, and I keep that in mind as well. See also posts here and here.
---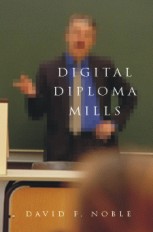 More links
David Noble was arguably the most important historian of science and technology of the 20th century and a longtime, perhaps initiating, critic of
the "commodification of higher education."
When he contributed a talk about the corporatization of campuses at the University of Ottawa in 2004, with co-speakers Ralph Nader and Leonard Minsky, several executive officers of the university declared that "he is not an academic." He
feared that distance learning would separate the delivery of higher education
by class
: the wealthy go to campus, everyone else goes online, alone.
Perhaps his greatest concern, the loss of academic freedom, the stifling of debate, should be ours as well.